Coral Charm
Send your charming mother an arrangement full of coral charm peonies, tulips, ranunculus, viburnums and hydrangeas.
$200
Shades of Purple
The fragrance of sweet peas waffle in the air, deep purple anemones, contrasting against the vivid green hydrangeas and viburnuns
$100
Peony Garden
Honor her with a garden bouquet filled wit all her favorite flowers: peonies, lilacs, hydrangeas, roses, viburnums
$175
Burst of Sunshine
Make her smile on Mother's Day with a burst of sunshine. Parrots tulips, callas, roses, ranunculus.
$85
She's So Lovely
Fragrance David Austin-Juliet garden roses, coral charm peonies, Holland tulips, muscari hyacinth.
$125
Pretty in Pink
All the flowers that she loves...Peonies, frilly tulips, ranunculus, hydrangeas, viburnums.
$200
Classic White & Green
The classic- Tibet roses, David Austin's garden roses, hydrangeas, apple green virburnuns, and sea ferns.
$150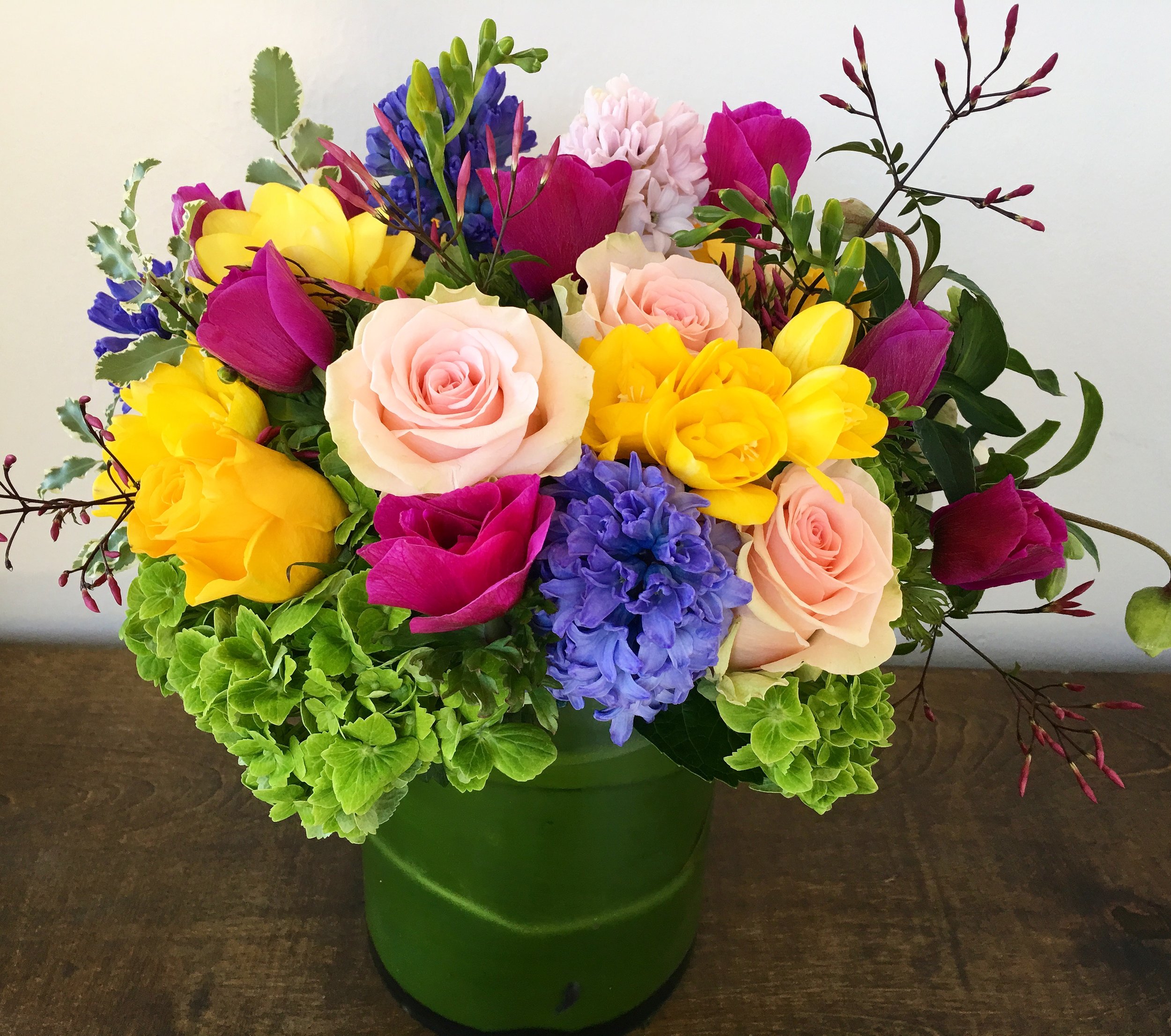 Boldness
She is not afraid of colors! Bright blue fragrance hyacinths, yellow freesias, contrast with hot pink anemones, jasmine vines, imported green hydrangeas.
$100
It's a Beauty!
Lovely and fragrance peonies, lilac, hydrangeas, tulips, roses, anemones and viburnums.
$175
Buttercups
A token of fragrance and beauty- Italian ranunculus, freesias, peony, hydrangeas
$125 Sold Out
Sweetest Blooms
Sweetest fragrance of jasmine, hyacinth surrounded by spring tulips and ranunculus.
$85 Sold Out
Poppy Field
The delicate beauty of Icelandic poppies dancing with the sweet pale pink roses, white lilacs and ranunculus.
$175 Sold Out
Fiddles & Lilacs
Treat her to a little whimsical- hydrangeas, lilacs, scabbiosa, Juliet garden roses,peonies tulips, fiddle ferns
$200 Sold Out
Lux Garden
Show her how much you appreciated her love- hydrangeas, lilacs, virburnums, cymbidiums, ranunuculus, tulips, bells of ireland, fiddle ferns, umbrella fern
$250 Sold Out
Modern Tulips
A modern display of two dozen of tulips.
$100 Sold Out
Spring Garden
All flowers of Spring: lilacs, tulips, hydrangeas, tulips, roses and more.
$85 Sold out